All three of them.
Just over a year since I lost my father: James Joseph McEntyre 19th Jul 1931 – 29th May 2014
Miss him dearly.
His death prompted me to have another look at the family tree.
Had to find out more…
James the 3rd (center) (That's me on the left!)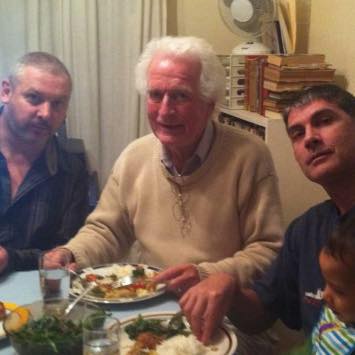 James the 2nd 25th Feb 1859 – 20th Dec 1904
Dad wasn't big on genealogy but I did manage to tell him some things about his own grandfather James Joseph McEntyre
who died suddenly of a stomach hemorrhage in Auckland. James made the biggest move and sacrifice coming to Australia at the age of 19 with his sister. She died within a year leaving James alone to fend for himself. He managed to marry 9 years or so later and have three kids, but it was obviously a struggle for them to survive. Shuffling from at first Sydney to Melbourne, back to Sydney and then to Auckland
Dad's own father didn't know his father James for long as he died at the age of 45 in New Zealand having been away from the family who were still in Sydney. He had been in Auckland for 19 months trying to set up a new life and to be able to bring his wife and kids over. It was obviously too big a task. Poor James missed the good years and arrived in Australia at the beginning of a 'moderate'  Depression. The moderate recession began in 1890, there was a brief recovery in 1891, but a full-blown depression from 1892 (that is, a period of real GNP/GDP contraction of 10% or more), which continued into 1893. From 1891 to 1893, GDP fell by a shocking 17.11%. From its height in 1889, it plunged by 13.82% by 1893.
This James also had a grandfather called James. No photo of him though. 1798? – 18th Nov 1856
Now this James is a new discovery. I found him via his son Thomas' 2nd marriage documentation. The address confirmed he lived in Wood Street Dublin. This led me to finding 4 properties he 'owned'. That led to finding his son Thomas had 3 houses in the same street.
All quite mind boggling.
James the 1st had a son called Thomas.
James the 2nd had a son called Thomas. (died as an infant).
James the 3rd (my father) and my mother had a stillbirth. My mother used to tell me he was a Thomas as well.
Even though they were unaware of the preceding naming pattern. James, Thomas, James, Thomas, James, Thomas… I have evidence that James the 1st's father is also a Thomas… Just trying to make that evidence 100% fact.